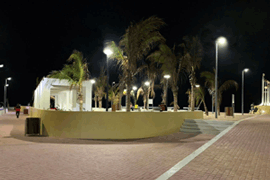 Posted on :Friday , 9th December 2022
BEKA Schreder is proud to have been involved in a heart-warming project where LED luminaires were donated to Matolweni Early Childhood Development Centre in Drayini Village, outside of Idutywa, Eastern Cape.

The original Matolweni Early Childhood Development Centre was a mud hut crèche. High crime rates have initiated efforts to upgrade the facility. The community was introduced to the Samarpan Foundation headed by Nicola Irvine. Over the past few years, the community, with the financial and technical assistance of the Foundation, have built a new facility using recycled materials and community labour.

The project has morphed from being an Early Childhood Development Centre to being a facility that offers adult computer skills training and a sewing facility, as well as a kitchen to supplement the nutritional needs of the local children.

Once the building was completed, the centre was looking for assistance with the internal and external lighting. BEKA Schreder, through the Schreder Together Fund, donated the supply and installation of 32 x BEKA VAPOURLINE linear LED luminaires, 12 x BEKA SERIES 30 LED bulkheads and 40 x LED downlighters, 3 x OMNISTAR-MAXI LED floodlights, in addition to contributing towards kitchen equipment for the school feeding scheme, computer equipment for the women's computer room and sewing machines and equipment for community sewing lessons.

What started as an Early Childhood Development Centre has metamorphosized into a community centre offering nutrition to the children, with the primary school next door, furthermore offering education and personal development, with a focus on marginalized women, to the community.

Samarpan Foundation is a charitable not-for-profit entity, established in September 2006 in New Delhi. They work to provide global support and assistance of any kind where there is humanitarian, ecological, environmental and animal welfare need.

BEKA Schreder locally develops and manufactures energy-efficient LED lighting products, designed and suitable for local conditions. We are extremely proud to be associated with this very special project in bringing lighting to a community.