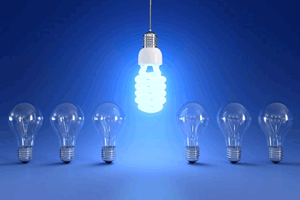 Posted on :Wednesday , 5th January 2022
With the increasing need for lighting solutions in Africa, a consensus is emerging on the necessity for LED light bulbs, which are environmentally friendly lighting products.

Man has discovered techniques to ensure that he has light during the night so that he can continue with his activities unhindered since the dawn of time. However, in comparison to what we have today, the lighting system was mediocre. In the past, it was typical to see families using oil lamps.

However, it was the industrial revolution of the 1800s that changed the world's lighting options. Humphrey Davy, an English scientist, invented the first bulb, which laid the groundwork for today's modern lighting systems.

Over the years however, proponents of environment conservation have decried the use of some bulbs which they says emit a lot of carbon to the atmosphere. It has been argued that traditional light bulbs for instance; produce a lot of heat and carbon dioxide to the atmosphere compared to energy savers.

But perhaps it is the amount of energy consumed by these traditional bulbs that has given energy stakeholders sleepless nights. Research has shown that LED light bulbs can save up to 80% of energy compared to the traditional incandescent.

It is a phenomenon that has forced companies dealing in power solutions to shift to energy saving bulbs. However, according to Mr. Bryan Naidoo of Radiant Group (Pty) Limited in South Africa, as manufacturers expand their offerings or enter the market, it is important for consumers to choose reliable, long-life LED power supplies to achieve optimal lighting performance.