Media/Press Releases
Event Advertising - Mobile Billboards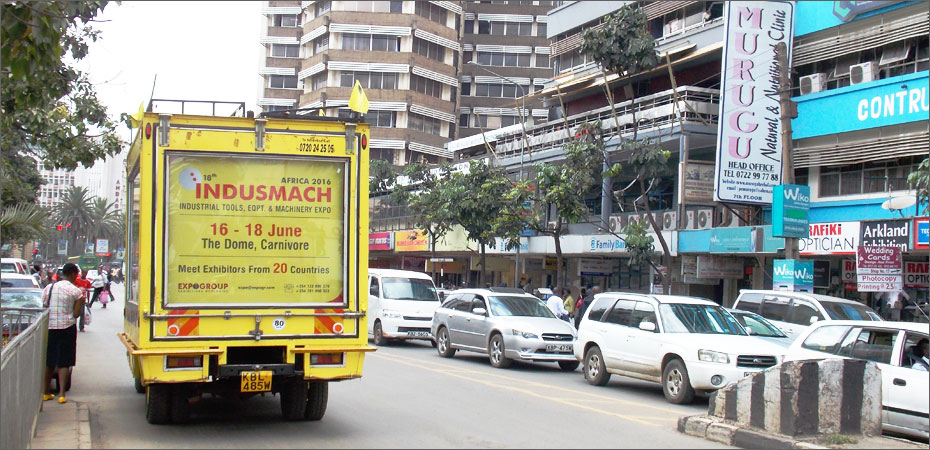 INDUSMACH Africa 2018- Investment, Expansion & Growth opportunities
INDUSMACH AFRICA signifies as a remarkable meeting place for manufacturers, suppliers and industry consumers and eye witnesses a notable array of leading companies from the Industrial sector. The expo is set to commence for the 19th edition at Kenya on 16 – 18 June 2017, at The Dome, Nairobi, with an exciting lineup of both local and international companies and is an ideal platform for product launches, finding new buyers & distributors, promoting brand names & image, updating existing customers and updating oneself with the latest in the industry.
Building on the success of previous events, the INDUSMACH AFRICA 2017 is aiming to get bigger and better. Bookings are open to grab the opportunity and have your company feature in a prime spot of the events . More than 5,580 + visitors from across East & Central Africa were in attendance at the previous edition of the event in 2015. The number of exhibitors and visitors in 2017 is expected to rise by at least 20%
To mention a few highlighted categories- Machinery, tools, Industrial Products like hand tools, fasteners, safety ware etc
The mega expo is being organized by Expogroup Worldwide, organizers of the largest International trade shows in Africa. Though Kenya by itself is one of the biggest markets in Africa, major emphasis is being laid upon attracting traders and importers from neighboring countries. The experience and comments of exhibitors at previous events indicate substantial gains from unexpected foreign visitors and we strongly feel that a rise in such statistics would ensure business especially for the foreign participants who form almost 80 – 85% of the exhibition.
Kenya is seen as a business hub in East Africa and has trade advantages that make it an attractive long-term location for business development. It has a stable political climate and has enjoyed continued economic growth for over a decade.
We believe this collaboration will benefit the growth of supporting industries tremendously. Not only will it have the discovery of latest in the industry but also meet international and local companies. INDUSMACH is looking forward to gather, big, medium and small industrial sectors under one roof. Providing an opportunity to the participating companies to promote their products equipments and machinery to the wide African market. Thereby getting set to deliver outstanding value and quality for all investors involved.
To sum up the to be held event INDUSMACH 2017 will serve as a comprehensive platform for international exhibitors to showcase their latest technological developments in the Industrial Sector and providing trade visitors with first hand information and experience from the best in the Industry
For more details view:
http://indusmach.expogr.com/
Email: