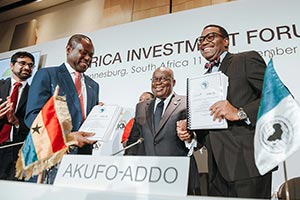 Posted on :Thursday , 23rd June 2022
From agreements signed during the 2021 African Investment Forum, East African governments would collectively benefit from investments totaling at least USD 8.77 billion in transportation, healthcare, energy, and agriculture, among other areas.
The African Development Bank (AfDB) organised the three-day conference in collaboration with other financial institutions including the Africa Export-Import (Afrexim) Bank and the African Finance Corporation, and 43 investment projects generated at least USD 36.2 billion for the continent as a whole.
One of the greatest agreements signed during the conference for East Africa was the USD 3.3 billion railway corridor, which would be built as a public-private partnership project and connect Tanzania's railway network from Isaka to Dar es Salaam via Dodoma and then from Tanzania to Kigali in Rwanda.
AfDB president and forum chair Dr. Akinwumi Adesina remarked, "There is a lot of political support and goodwill for this, and I can't wait to see this railway.
'This all contributes to enhancing regional integration and advancing the Africa Free Trade Area.' The cost of moving objects will decrease as a result.
During the forum, additional agreements were reached for a USD 103 million wire rod manufacturing plant in Kenya, a USD 237 million innovation hub in Rwanda, a USD 413 million combined gas cycle power plant in Tanzania, a USD 220 million geothermal power plant in Ethiopia, and an oil refinery project in East Africa worth USD 4.5 billion.
The energy sector will get the highest portion of investments, totaling USD 9.81 billion, throughout the continent. This entails the construction of infrastructure for liquefied natural gas, renewable energy sources, and the production of electric cars, among other things.
The forum will increase investments in women-led firms by USD 4.94 billion, and the African Development Bank will contribute an extra USD 1 billion to the establishment of a women's advising centre.
Dr. Adesina announced, 'We will eliminate barriers standing in the way of women-owned enterprises because women-owned businesses shouldn't ever be weak'