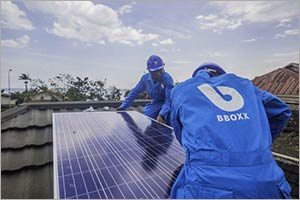 Posted on :Wednesday , 13th February 2019
British solar panel manufacturer gives a boost of £24.1m to expand into Kenya, Rwanda and the Democratic Republic of Congo.The British solar panel manufacturer has already expanded more than 150,000 solar systems, allowing nearly 1m people in 35 countries and made over £20m in sales in 2017.
For people earlier off grid, it offers pay-as-you-go solar power that is cheaper and cleaner than kerosene.

The deal between BBOXX, is indentified as a "next generation utility platform", and Africa Infrastructure Investment Managers (AIIM) will see 10 million people receives energy access through two million solar systems by 2022.
From its AIIF3 fund, AIIM is funding USD 31 million for a lower section stake in BBOXX's operations in Rwanda, Kenya and the Democratic Republic of Congo (DRC).

This investment of BBOXX's solar systems will accelerate the roll-out which will combine solar panels and batteries with inventing technology, accessible on a pay-as-you-go basis via mobile money.

These funds will help in enabling economic growth in these communities by enhancing new markets through the entry point of electricity. It will also be used across BBOXX's allocation mix, positively hitting a range of customers including households, schools and SMEs across rural, urban and peri-urban regions.
"This latest deal with AIIM shows BBOXX's commitment to mobilising higher investment and capital in the off-grid sector, through partnering with major global companies", Mansoor Hamayun, CEO and co-founder of BBOXX noted.

"AIIM's investment wills turbo-charge our operations in Rwanda, Kenya and the Democratic Republic of Congo. This will allow us to scale quickly and continue to drive disaggregation in what has traditionally been a vertically integrated market.

Jurie Swart, CEO of Africa Infrastructure Investment Managers (AIIM) said: "We are delighted to be working with BBOXX to grow off-grid solar electricity to millions of people previously without access to basic utilities. BBOXX shares our perception to remove barriers to economic growth and facilitate the development of Africa's economies.

BBOXX has brought electricity to 750,000 people in boundary markets, with generous operations in countries including, Rwanda, Kenya, Togo, the DRC, Nigeria and Pakistan.