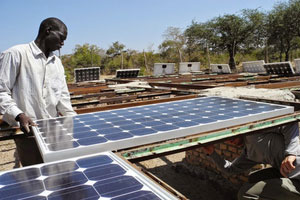 Posted on :Thursday , 19th July 2018
A report that highlighted the new economic benefits to households in East Africa from off-grid solar power was released by GOGLA, the non-profit trade body for off-grid solar power.
The researchers collated data from 2,300 solar owners in Kenya, Rwanda, Mozambique, Tanzania, and Uganda to work out the impact of new renewable installation on their livelihood.
Nearly 60 percent of respondents reported an increase of economic activity within the first three months of using a home solar system. This includes increased income, job opportunities and more work time.
An astonishing 94 percent said that their quality of life had improved thanks to the off-grid system with 86 percent stating that they have greater disposable income. Equally high levels were reported for the availability of light and the health improvements seen by family members.
The result of clean, free and reliable power has opened new doors for many communities, providing opportunities to start new businesses and extend working hours. Solar is also helping households ditch expensive and life-threatening kerosene lamps, currently in use by millions of people in the developing world; 90 percent of those polled said they had now replaced the toxic lamps.
Koen Peters, Executive Director of GOGLA said the new report shows "the net economic and social benefits off-grid solar is a huge opportunity for national governments of the developing world."
"Governments tell us they are interested in jobs and economic impact. As this report shows, off-grid solar is directly delivering such impacts and significantly. We call on policymakers, treasury, and energy departments to work together with off-grid companies, banks and institutions to break down barriers to off-grid solar and build a pathway to accelerate energy access," he added.
The work was funded by the UK's Department for International Development, which has raised over £4 billion to support climate adaptation and mitigation in the developing world.