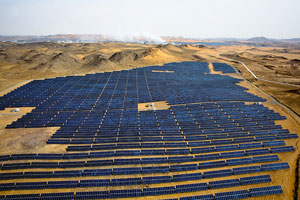 Posted on :Monday , 2nd July 2018
The Rwandan government, SB Energy Corp, and Mara Corporation Ltd have signed a MoU to develop a 30MW solar power plant with a storage facility.
The deal was signed during the International Solar Alliance (ISA) Conference which took place in New Delhi, India.
The Minister for Infrastructure, James Musoni and Clare Akamanzi, the chief executive officer for the Rwanda Development Board, represented government at the signing ceremony, according to the New Times
President Paul Kagame also attended the forum and spoke about the importance of increasing the adoption of solar energy underlining that it's part of the answer to climate change.
The KT Press quoted President Kagame indicating that the world needs $1 trillion to achieve one terawatt of solar power capacity by 2030.
"The one trillion dollars needed for solar investments globally in the coming years will obviously not come from governments alone," he said.
"Public-private partnership is required. The International Solar Alliance's proposed tools to mitigate credit risk send an important signal to the market, that solar energy is a viable business," he added.
ISA is an initiative that was launched at the UN Climate Change Conference in Paris on November 30, 2015.
In April 2016, ISA proposed a common guarantee fund and guarantee investments with a clear scope, definition of risk coverage and recourse options.
This intended to reduce transaction costs to mobilize the investment volumes necessary for scaling up solar energy projects.
ISA proposed setting up a $300 billion Global Solar Fund over 10 years with contributions from the World Bank, Overseas Development Assurances and from the Green Climate Fund to leverage$3,000 billion in investment from the corporate sector.
Recently, a more joint financial partnership was achieved by various financiers aimed at mobilizing funds for the deployment of over 1,000GW of solar energy.