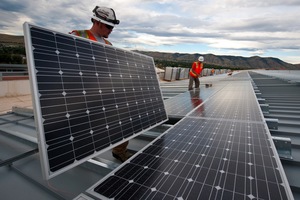 Posted on :Tuesday , 31st October 2017
Domestic and international players are expected to meet in Kigali soon in an attempt to identify new opportunities in the renewable energy sector.
The objective of the forum will be to act as a platform for networking and showcasing new technologies in the sector. The forum is set to venture into Rwanda and will bring to light new and exciting investment opportunities in the renewable energy sector.
The forum will engage investors and financiers; updates by the Rwandan Government will also be shared and discussed at the event.
Lessons with regard to new innovations and more engagement with pioneers will also be among topics being discussed, according to organizers.
Rwanda's energy sector produces 210.9 MW of energy presently. 48 percent of that figure is contributed by hydropower sources with thermal energy contributing another 32 percent, while methane-to-power sources adding 14.3 percent.
According to figures released by the Rwanda Energy Group Report, the nation has now managed to provide access to power to 40.5 percent of its population. 29.5 percent of this energy comes from on-grid sources, while off-grid sources contribute 11 percent. The REG also recently revealed that it was aligning its energy roll-out strategy to that of its central government.
A new strategy dubbed the '7-5-2 Plan' aims to connect all of Rwanda's households by the year 2024, all productive users by 2022 and also ensuring connections to the whole city of Kigali by 2019. The new strategy, however, will depend on the power inputs provided by neighboring countries.
Yves Nshuti, the Acting Managing Director of Energy Development Corporation Limited recently spoke to The New Times and said that the power importation plan is still under process and on completion will add 100MW to the country's power supply. The plan will also include steps to ramp up the use of off-grid solutions to 48 percent.
This event will be organized by Energy Private Developers Association alongside the Rwanda Development Board and other partners.