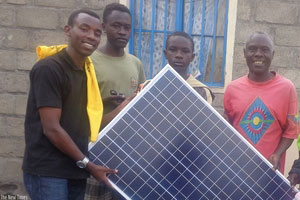 Posted on :Wednesday , 4th October 2017
A $48.9 million agreement was signed for a plan to upgrade Energy Renewable Programs, so as to assist the government of Rwanda to garner finances from the private sector. The main objective of the program is to provide access to power through non-grid solar panels.
The agreement was signed by Claver Gatete, the Minister of Finance and Economic Planning and Yaseer El Ghammal, the World Bank Country Manager for Rwanda.
With the recent approval of the Rural Electrification Strategy, the Rwanda Renewable Energy Fund Project will now have the capacity to provide as many as 445,000 new connections to off-grid panels which will provide 1.8 million people with access to power.
This step will also rid these new consumers of the traditional and also hazardous means of using diesel, kerosene and dry cell batteries for power.
The project will also see to it that the Credit Co-operatives, Savings, and Commercial banks gain expertise and draw experience from lending to a new sector which could further facilitate other investments in the future.
The Renewable Energy Fund will also be playing an active role in assisting the collaboration of Rwandan Financial Institutions and the Private sector to ensure that no compromises are made with regard to quality and also to provide swift funding to mini-grid developers.
"I hope that the Renewable Energy Fund becomes a vehicle to crowd-in resources to the off-grid electricity sector, attracting financing from both private sector and development partners," said World Bank Country Manager for Rwanda, Yasser El-Gammal.