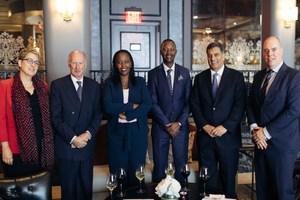 Posted on :Wednesday , 1st November 2017
Symbion CEO, Paul Hinks has announced that they will collaborate with Highland Group Ltd to make an investment of $100 million to generate 106 megawatts of methane power on Lake Kivu in Rwanda.
The lake has an estimated 55 billion cubic meters of naturally occurring methane gas. The power generation capacity of Lake Kivu has been conservatively estimated at approximately 500 MW over a period of 40 years.
At the signing ceremony held in New York, Hinks was quoted saying, "We are excited about our new partnership with HGHL; they are injecting $100 million of cash equity into Symbion Energy's Rwanda projects. The work will begin in November 2017 and this funding means we can speed up at least 22MW of power within 18 months. Roughly 8 to 10 MW of that can be available by mid-2018 from the existing plant we acquired in 2016 which is known as KP1. It will be expanded and rehabilitated."
Hinks also hailed Rwanda as one of the few African nations that plan properly with the future in mind. He also said that Rwanda is a country that understands that power capacity is something that will attract more foreign investment and help the Rwandan economy to further grow and advance.
The demand for power has not been met in Rwanda only because of the lack of funds required for the same. Rwanda also ranks very highly in the World Bank's Ease of Doing Business Index. HGHL also fully endorses this and their investment in the nation will be their very first large-scale investment in Africa.
Lord Irvine Laidlaw, Chairman of HGHL said, "This is perhaps the most exciting and interesting project that I have undertaken." He continued, "We will be producing electricity by using a unique renewable resource, methane from the bottom of Lake Kivu. Delivering this will be a challenge I look forward to." "Even more important, we are generating power for one of the fastest growing countries in Africa, so we'll be making a major contribution to its continued growth. I and my colleagues are proud to be assisting Rwanda," said Laidlaw.
Clare Akamanzi, a member of the President's cabinet and CEO of the Rwanda Development Board was quoted saying that this partnership will be an example of co-investments that can help further Rwanda's agenda of continued growth. She also reiterated the government's stance of supporting investors and projects in Rwanda, in hopes to make the most of the nation's vast potential.
Cheryl L. Anderson, USAID's Acting Assistant Administrator for Africa was in attendance at the signing ceremony and spoke glowingly about the partnership between Symbion and Power Africa and the critical role American companies can play in accelerating Rwanda's growth agenda.
Symbion is partnering with the government of Rwanda and its regulatory agencies to ensure that its Lake Kivu projects deliver affordable energy in an efficient and environmentally responsible manner.