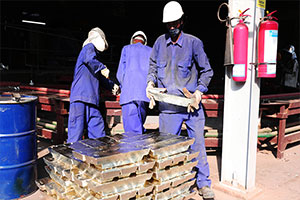 Posted on :Monday , 26th July 2021
The year 2020 was on numerous fronts a trying period. Nonetheless, Rwanda's economic sectors sustained to function against all odds.
The mining sector is one area that has observed a series of activities, even though the impact of Covid-19 pandemic has had on the sector.
It is true that the pandemic has paralyzed trades across the world, including the mining industry, whose products are sold to the global markets.
Between January and February alone, revenue exports of 3Ts decreased by 30.9% due to the drop in international commodity prices.
In the course of the same period, prices of Coltan dropped by 4.6%, Wolfram by -15.3% and Cassiterite by -14.5% as demand for mined products dropped due to slow economic activity.
Bernard Nsanzimana, a mining governance expert also stated that the minerals which are used to produce the same products also faced market shortages, across the world.
"This led in turn to the lessening of the mineral workforce and production in Rwanda, which adversely impacted the mining sector," he noted.
However, in June right after mining companies' restarted operations, the Government of Rwanda uncovered a sequence of strategies to enable the sector to recover.
One key high point was an emphasis on promotion of mining exploration.
The government of Rwanda through the Rwanda Mines, Gas, and Petroleum Board (RMB) boarded on an exercise of assembling geological information on where minerals are situated and their probable quantities.
The idea was intended to draw and accelerate future investments in the sector.
"We are enthusiastic to see mining exploration activities taking a different shape," stated John Kanyangira, the Mining Traceability Division Manager at RMB, on the outcome of the government's plan to endorse mineral exploration.
Although Covid-19 has taken a heavy toll on the sector, Kanyangira emphasized that production is scaling up as prices of minerals such as tin and tantalum start to recover.
"Two months ago we started seeing production going up. This is because miners are returning to work and prices are supporting them to resume and continue production," Kanyangira stated.