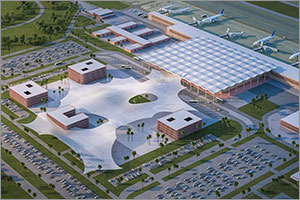 Posted on :Friday , 11th June 2021
The first phase of Bugesera International Airport in Rwanda will be delivered by December this year according to Hon. Claver Gatete, the Rwandan Minister of Infrastructure.
The minister made the announcement during the recent 5-day Executive Workshop of the Union of Central and West African Airport Managers (UGAACO) that aims to improve skills for the efficient management of airports and ensuring an appropriate degree of global standardization and quality leadership competencies through experience exchange on airport management challenges.
"The construction activities of the US$ 1.3bn airport were hampered partly by modifications made to some aspects of the project, and partly by the COVID-19 pandemic where only 50% of workers are allowed on the site at a go. However, to this point the horizontal works, including the construction of runaways and other infrastructure that are required for an airplane to land, are nearly 40% complete,"
"We have also started recruitments for construction of terminals and other required buildings, and we plan to start the works in the next two months. Generally, we are doing our level best to have construction activities on this phase completed by the end of next year," explained Hon. Gatete.
The second and last phase of the project is expected to start by 2032.
Expectations for the project
The construction of the Bugesera International Airport begun back in August 2017 with Mota Engil Engenharia e Construcao Africa as the main contractor.
Upon completion, the airport will serve approximately seven million passengers per year for the first phase and 14 million passengers a year following the completion of the second phase. It will become Rwanda's largest International Airport, serving commercial flights destined to and from the greater Kigali metropolitan area, and the country's 8th airport overall.