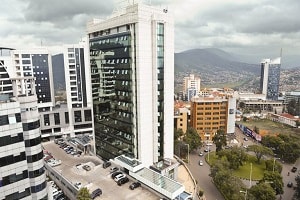 Posted on :Saturday , 25th May 2019
After successfully launching construction of Africa's biggest tech hubs Kigali Innovation City, Rwanda is approaching to a cleaner environment with the Green City project in the capital Kigali in 2020. Rwanda is planning to construct a green city on 620 hectares in Kinyinya Sector, Gasabo District as an approach to achieve a cleaner and safer environment.
It will be the first city in Africa to equip with green technology and innovation to compete against environmental degradation and air pollution – told by Engineer Eudes Kayumba, who is the Deputy Team Leader of Green City pilot project launched last year.
This first-ever green city in Rwanda will have clean technology such as electric vehicles, renewable energy, biogas plants, sustainable waste treatment, urban forests and, mini-factories with clean and innovative technology. To make it more feasible to people it will also include affordable housing and craft production centres, he concluded. The German Development Cooperation is financing the project with the help of KfW Development Bank, while the feasibility study is undertaken by Rwanda Green Fund(Fonerwa). Engineering and architectural division of the city is supported by a European company namely, Sweco.
This big Green City plan will be completed with different contractors, said Kayumba. For instance, 410 houses under the Cactus Green Park project will be undertaken by Horizon Group Ltd on 13 hectares of land whereas affordable green houses on 125 hectares will be developed by Rwanda Social Security Board. On successful completion of all the study and testing later this year, they will implement the project beginning with basic infrastructure such as electricity, water and roads said by Kayumba.
With this project, Rwanda is entering into a world of cleaner, safer and peaceful broader green ecosystem while they also insist that a section of it will be earmarked for low-income earners.