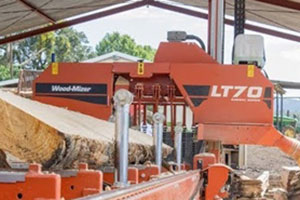 Posted on :Monday , 30th October 2017
Wood-Mizer started trading in 1982 with the successful launch of the company's first LT-type sawmill. The simple to use, portable and affordable sawmill was an immediate success. Sawmillers were now able to produce accurately sawn quality timber normally only associated with costlier mills.The availability of affordable sawmilling technology that could grow businesses that support families, develop economies, spark manufacturing, create employment and ensure increased sustainability, has resulted 60,000+ sawmills in operation in more than 100 countries around the world.
With branch offices on five continents and more than 100 authorised distributors worldwide, Wood-Mizer is committed to customer success. Our international sales and service teams offer advice, experience, and local service worldwide, with experience in diverse markets for many years. In Africa Wood-Mizer serve 30 countries through a network of authorised dealers and service providers.
Wood-Mizer's commitment to service support for the duration of the machine's lifespan, give sawmillers the assurance that they have a business partner that they can trust to grow their business with them into the future.
Wood-Mizer's signature thin-kerf sawmilling approach yields more product and less waste from every log, require less power consumption when cutting, and can be installed for a fraction of the cost and trouble of traditional sawmills. Most of our 'orange' customers are small businesses supporting their families by supplying sustainably and locally grown timber to their region. And our industrial customers are leading the way in redefining sawmill profitability for the next generation.
We try to help you make the right choice to suit your own plans, however ambitious.
When acquiring a Wood-Mizer sawmill, you buy more than the product – you become a part of the Wood-Mizer family. Modern manufacturing facilities in the United States and Europe guarantee maximum quality at an affordable price – anywhere in the world. And the constant development of new products is designed with the future in mind.
Face the future of your company confidently with Wood-Mizer.