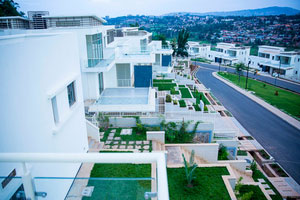 Posted on :Wednesday , 11th October 2017
Private Real Estate Company Ultimate Developers Ltd is proactively transforming the property business in Rwanda.
UDL is directly responsible for the socio-economic transformation of many Rwandans through the work they have done with the Vision City project. Vision City is the biggest residential housing project undertaken in Rwandan history.
The project will be situated in the Uptown neighborhood of Gaculiro. This is a prime location, just 6 kilometers from the Kigali International Airport and 3 kilometers from the Central Business District. The project will offer a wide choice of housing solutions to interested buyers.
Vision City will feature 4500 units in a variety of forms including apartments and luxury villas. 504 of these homes have already been completed. These homes are defined by their chic, urban aesthetics.
Vision City, however, aspires to more than just this. These homes will be based in a self-sustainable neighborhood with a variety of amenities like pedestrian walks etc available and in close range.
The buyers will have the option to either purchase a 4 bedroom apartment or a 3 bedroom apartment, each equipped with a 2 car garage and exquisite outdoor terraces.