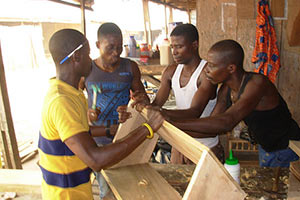 Posted on :Monday , 28th February 2022
Experts have stated that the wood sector needs increased access to capital in order to increase its contribution to economic and export development, as well as employment creation.
The wood sector employs around 75,000 people in Rwanda, according to Dr. Christian Sekomo Birame, Director-General of the National Industrial Research and Growth Agency (NIRDA), indicating its importance to the country's long-term development.
'We need to talk about how we can coordinate our efforts to help the wood industry and guarantee that we have adequate quality and quantity domestically made products.' This is due to the fact that the current scenario is the reverse. Rwanda is a large importer of wood goods as well as a key regional importer of timber,' he explained.
He added that there are several reasons for this, but the market desire for wood items created from imported wood is by far the most important.
He believes that this circumstance presents a unique opportunity for partners and stakeholders throughout the wood industry value chain.
According to the previous study, the national sawn wood commerce is expected to be between 275,000 and 300,000 cubic meters per year.
According to the analysis, the overall value of traded timber might be about USD 76 million each year.
'The wood industry has a lot of untapped potentials that may deliver better returns,' Birame said.
According to research, the timber sector in Rwanda might quadruple or triple direct and indirect jobs over the next ten to fifteen years, with a value of more than USD 200 million.
He stated that enterprises or actors in the industry must invest more in the purchase of cutting-edge technology and related technical competence and that this necessitates access to capital.
This, according to Birame, is the path to a more competitive and sustainable quality of wood products.
He stated that the wood industry has to be supported with promising community development commitments.
The financial assistance is meant to boost the competitiveness of wood value chain start-ups and corporations.
business advise, entrepreneurship and management training, coaching and mentoring, access to technical infrastructure, technical assistance, market information services, facilitation of financial and investment linkages, and facilitation of technological upgrade linkages are all part of the assistance.