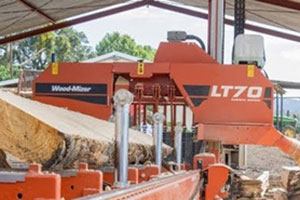 Posted on :Tuesday , 9th October 2018
Rwanda is seeking more companies to invest in the timber production and other related industries to boost forestry and timber business locally, official sources in the Ministry of Land and Forestry have indicated.
With export growth of 17.9 percent in the year to August 2018 and import growth of 7.4 percent, the trade balance has continued to improve, Laure Redifer, IMF Rwanda mission chief in Kigali said, adding that the robust growth in 2018 reflects strong industrial activity, notably construction.
The key however to the successful economic growth in the country is the "Made in Rwanda" initiative since it promotes locally made products and creates jobs in the process.
The wood sector consists of two main subsectors - manufacture of wood products for construction and furniture manufacture. Rwanda's wood sector is predominant in the latter, while the former is not yet developed, most of the wood products are imported from abroad. Wood-processing industries sector make a substantial contribution to development as it can contribute to important economic growth.
Powerful investors in Rwanda are taking advantage of a new opportunities for investing in timber production. Forestry has become an attractive investment because of the rising value of timber and the allure of carbon credits.
Forests currently cover 29.6 % (10.3 % natural and 19.3 % plantations) of the dry land area of the national territory and the aim is to achieve a 30% target by 2020.
Government of Rwanda is looking to address three challenges that include reduction cost of production, access to affordable loans, and technology transfer to improve industrialization in the country that needs to be a regional competitor an increase exports. When that strategy is fully addressed then the industries could bring in $450 million per annum and therefore reduce the country's negative trade balance. Up to $ 206 million would be invested in the construction materials industry including the manufacturing of timber for construction products, paints, varnishes etc and another $ 124 million could prompt the investment of factories that manufacture ancilliary and wooden packaging materials, wooden furniture, insecticides etc.
The Government of Rwanda intends to transform its economy into a modern industrialized country that has the capacity to diversify economic activities, create higher quality jobs and construct a stronger stable and sustainable market.