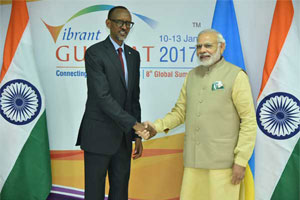 Posted on :Tuesday , 24th January 2017
The maiden visit of Rwanda President Paul Kagame to India has opened up a new avenue for Indian businesses and exporters.
Speaking at the 8th Vibrant Gujarat Summit, a global business forum in India, President Kagame urged increased private sector investments from India, highlighting Rwanda as a competitive and conducive environment to do business with a favourable climate for investments.
The summit witnessed the signing of a number of key bilateral agreements between the two nations including an air services agreement to start direct commercial flights to India's financial capital, Mumbai. The move is aimed at improving market access and deepening trade relations between the two countries by lowering travel costs and time.
Bilateral trade between India and Rwanda has doubled in the past 5 years. The current bilateral trade between India and Rwanda stands at an estimated $526 million.
According to the Rwanda Development Board, India was responsible for 66 investment projects in Rwanda between 2011 and 2016, valued at $317.5 million, creating close to 4000 jobs in fields such as telecommunications, healthcare, education and hospitality.
During the third quarter of 2016, Rwanda imported goods worth $33 million from India. The Rwandan government is on a drive to reduce the country's trade deficit and strengthen its foreign exchange reserve cover by helping exporters identify new export markets.
Rwandan envoys to India have also reiterated the amount of opportunities available to Indian exporters in the country. Rwanda imports nearly 90% of all its requirement of manufactured goods.
There is a dearth of production facilities in the country and hence a heavy reliance on countries such as India to import finished goods especially in the pharmaceutical, construction materials, automotive and textile sectors.
Another thing to note is that although Rwanda imports a lot of goods produced in India, they make their way into the country through third party traders in the US, UK and Singapore, thereby increasing the cost of the imports by nearly 40-50 per cent in the local market.
Indian manufacturers and traders are thus being urged to set up warehouses or distribution centres in Rwanda where finished products, imported from India can be stored in order to facilitate direct trade with the country. This will ensure higher profit margins for the manufacturers and a lesser cost to be paid by the consumer, a win-win situation for both countries.