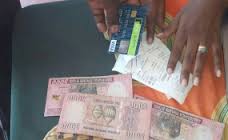 Posted on :Wednesday , 21st December 2016
The National Institute of Statistics of Rwanda (NISR) monthly consumer price index (CPI) indicated that Rwanda's inflation rate eased to 6.4 per cent year on year in November, from 7.4 per cent recorded the previous month.
Rwanda uses CPI to measure the average change over time of goods and services bought by households.
The report shows that foodstuff prices were the main drivers of inflation during November, especially vegetables, which rose 18 per cent. Food and non-alcoholic beverage prices stood at 13.5 per cent in November.
Transport prices was the other main driver of inflation which rose to 7.5 per cent on an annual basis, while water, electricity, gas and other fuel prices were up 1.1 per cent.
Prices of 'imported goods' rose to 7.7 per cent on annual basis from 6.3 per cent the previous month, while the price of 'local goods' dropped to 6 per cent year-on-year from 7.5 per cent.
The price of fresh products reduced to 13.7 per cent year-on-year in November from the 18.8 per cent rate recorded in October, driven by a decline in price of fresh products of 1.2 per cent month-on-month inflation.
The urban CPI increased by 6.4 per cent on annual basis and the rural inflation also rose to 10.6 per cent.
Overall, the Rwanda index went up marginally on a monthly basis at 0.5 per cent and increased by 9.1 per cent on an annual basis.
The underlying inflation rate, excluding fresh food and energy, grew 5 per cent year-on-year and increased by 0.5 per cent when compared to October. The annual average underlying inflation rate was recorded at 3.8 per cent during the month.