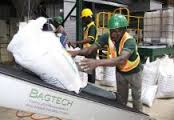 Posted on :Wednesday , 11th January 2017
The National Cereals and Produce Board (NCPB) has assured farmers that subsidized Diammonium Phosphate (Dap) fertilizer will be available from next month.
NCPB Managing Director Newton Terer said in a telephone interview that 150,000 metric tons of fertilizer will arrive late this month, in time for the planting season that starts in February.
"The three million bags have already been procured by the board and are expected to arrive by end of January.
"We are urging farmers to visit our various depots across the country so that they can benefit from this government programme aimed at supporting agriculture in this country," Mr Terer said.
However, Mr Terer said the amount of fertiliser purchased will not be sufficient for farmers nationwide.
He said about 10-12 million bags are required annually, which means many will have to buy from private firms that sell at a profit.
The government charges Sh2,500 for a 50-kilo bag while private companies might sell the same unit at Sh3,800.
Meanwhile, Kericho Governor Paul Chepkwony advised farmers to diversify their crops menu in order to boost their income.
"The days of planting only one crop are long gone. We are advising our people to engage in mixed farming so that besides having a constant supply of various crops for their consumption, they can also engage in economic agriculture to boost their income," he said.
He urged the Kenya Seed Company and the NCPB to ensure enough seeds are available to all farmers and the right fertiliser is provided.