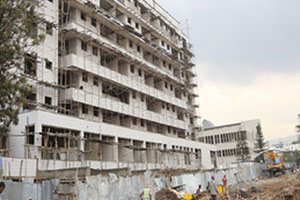 Posted on :Friday , 11th November 2022
The Ethio-American Doctors Group (EADG) and the China Civil Engineering Construction Corporation (CCECC) recently signed a contract in Addis Ababa for the construction of the first phase of the EADG healthcare centre located.
A cutting-edge hospital that provides top-notch healthcare will be built as part of the project's first phase in three years. The contract was signed by Li Minggang, managing director of CCECC, and Tesfaye Fanta, president of EADG.
The EADG healthcare facility project's stated goal is to run a high-standard medical facility that draws medical tourists to Ethiopia, said the president of the Ethio-American Doctors Group. He says that the project's transfer of medical knowledge will benefit the local staff.
Additionally, he said that the world's goal is to promote medical tourism. The president went on to state that they think the initiative is of national importance because of its huge social impact. The signing agreement with CCECC has as its goal the construction of the multi-specialty hospital project, which EADG anticipates will be finished in two to three years.
Members of the EADG have already raised more than $12 million. According to reports, the hospital's foundation and design are finished. Almost all of the remaining work will be done by CCECC.
The EADG Health Care Center project requires a budget of 5 to 6 billion birrs. It was revealed that EADG is selling stakes to foreign and domestic investors. Additionally, EADG will obtain bank loans to cover the costs.
The second phase of EADG's work will focused on facilities, training, and research, the president noted. In the third phase, it will build the institutions which will help the medical centre.
The hospital will be a sustainable building and a landmark in Addis Ababa. Li Minggang, the managing director of a CCECC, thinks that it will spark improvements in the health sector in Ethiopia. The goals of EADG's official establishment as a C-Corp (for profit) in North Carolina as a centre of excellence and an approved tertiary hospital were set forward in May 2011.
The count of medical practitioners has grown considerably.