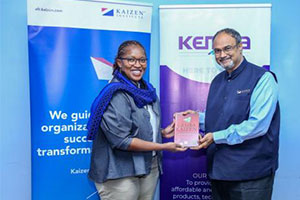 Posted on :Monday , 10th October 2022
In an effort to implement KAIZEN principles at the Ethiopian Pharmaceuticals Supply Service, the delegation headed by Dereje Duguma, Ethiopia's Minister of Health, engaged KEMSA and benchmarked their operations (EPSS).
According to KEMSA CEO Terry Ramadhan, the operating system helped the organisation rank among the best in sub-Saharan Africa.
KEMSA's CEO said that the idea has helped the authority's transparency and end-to-end visibility of health products and technologies while persuading the Ethiopian government to adopt the approach.
"Our preferred standard for continuous operating improvement objectives across all of our workstreams is the Kaizen Philosophy. Through Kaizen, we work to ensure high levels of quality, establishing KEMSA as a premier provider of supply-chain solutions for health commodities "The CEO continued.
On the other hand, Ethiopia's Minister of Health Dereje praised KEMSA's work and committed to forward the concept to the nation's top decision-makers for consideration.
"The Ethiopian delegation to Kenya commends the KEMSA team on their hard work in implementing reforms and adopting top-notch standards. KEMSA has been designated as a KAIZEN best practise site. In order to successfully implement the Kaizen philosophy at our Ethiopian Pharmaceuticals Supply Service, we will make an effort to sustain our relationships of mutual support "The Health Minister of Ethiopia gave details.