Kenya: China to Ship in 5,000 Foreign Workers for the Mombasa-Nairobi Standard Gauge Railway Project
Posted on : Friday , 8th August 2014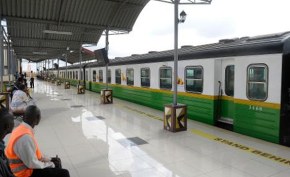 China Road and Bridge Corporation will bring in 5,000 workers to work on the standard gauge railway, Kenya Railways MD has said.
The works on the 609km railway is expected to kick off in September after a frosty start that was marred with claims of corruption. Parliament gave the project a clean bill of health.
"The contractor will bring in the workers and get additional ones locally. We have also commenced discussions to reduce timelines and ensure that the project is completed by 2017," Kenya Railway Corporation (KRC) managing director Atanas Maina Is quoted by Business Daily saying.
President Uhuru Kenyatta said during an TV interview that the physical work on the railway is set to begin in September. The first phase Sh327 billion project that will link Kenya and her EAC neighbours is expected to be completed by 2018.
Kenyatta said the government is in the process of compensating landowners along the railway line, with National Land Commission already gazetting land along the 300km line.
Kenya signed a Sh314.2 billion Mombasa-Nairobi railway deal with China at State House in Nairobi on May 11, 2014. The first phase of the standard gauge railway project will cover 609.3kms from the port of Mombasa to Nairobi and will cost $3.6 billion (Sh314.2 billion). 90 per cent of the financing will come from China Exim Bank while Kenya will cover the remaining 10 per cent. At least 30,000 Kenyans are expected to be employed by the project.
The Standard Gauge Railway is aimed at providing efficient and cost effective rail transport for both freight and passengers. It is intended to reduce the cost of doing business by reducing the cost of transport.
Passenger trains will have a speed of 120 kilometers per hour while those for freight will be designed to move at 80 kilometers an hour.
"It will take passengers four hours and 30 minutes to travel from Mombasa to Nairobi while freight will take eight hours. The project is slated to kick off on October 1st and take 42 months to complete," Uhuru said during the signing ceremony witnessed by Chinese Prime Minister Li Keqiang at State House in Nairobi.