Africa Climate Summit Will Call for Investment in the Region
Posted on : Tuesday , 12th September 2023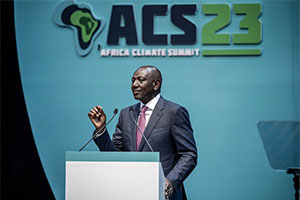 According to Kenya's president, Africa has the opportunity to "guide the globe" in terms of climate change. As he got ready to kick off a historic climate summit in Nairobi, the goal was to reposition the continent as a burgeoning hub for renewable energy.
The inaugural African Climate Summit comes before a flurry of diplomatic gatherings running up to the COP28 climate summit in the oil-rich United Arab Emirates in November, which is likely to be centred on competing visions for the future of global energy.
An ambitious goal in a politically as well as economically divided region where communities have been the most susceptible to climate change, the Nairobi gathering is billed as bringing together leaders from the 54-nation continent to outline a unified vision of Africa's green growth.
William Ruto, the president of Kenya, stated that Africa's goal in combating climate change would be to "save lives and the planet from disaster."
He stated on X, formerly Twitter, "We aspire to chart a new growth agenda that will deliver shared prosperity and sustainable development."
Ruto has stated that in order to achieve these goals, the international community must assist in releasing financial constraints on the continent and reducing the rising debt loads bearing on its member states.
The gathering will show that "Africa is not just a victim but a dynamic continent with solutions for the world," according to Joseph Nganga, who was chosen by Ruto to lead it.
A draft of the final declaration seen by AFP highlights the continent's enormous potential for renewable energy, its youthful workforce, and its natural resources.
These comprise 40% of the cobalt, manganese, and platinum deposits needed for batteries and hydrogen fuel cells.
Africa only receives roughly 3% of global energy investments at the moment.
The meeting should strike a balance between optimism and a sober appraisal of the difficulties, according to Charra Tesfaye Terfassa of the think tank E3G, in order to "chart a new path for African to be a key part of the global conversation and benefit from the opportunities of the transition."
Several African heads of state, UN chief Antonio Guterres, EU chief Ursula von der Leyen, and other leaders are anticipated at the Nairobi gathering.