Castrol Kenya collaborates with Rubis Energy Kenya to launch a wide range of oil lubricants
Posted on : Monday , 5th June 2023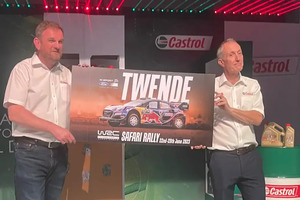 Castrol Kanya and RUBiS Energy Kenya have teamed together to bring Castrol oil lubricants to Kenya. The oils are now accessible at approximately 260 RUBiS Energy Kenya stations around Kenya.
During the alliance's debut, Ed Savage, Castrol Kenya's Country Manager, stated, "The partnership with RUBiS Energy Kenya is timely as customers seek oil products that are designed to meet their everyday mechanical needs. Castrol will use RUBiS Energy Kenya's nationwide reach to guarantee that consumers may obtain oil lubricants at all service stations across the country."
"Castrol also offers a 'Car Engine Oil Finder tool' to ensure customers get the correct oil. When it comes to oil, the app makes it quick and easy for clients to see all of their alternatives and make the best decision. This is in addition to the owner's handbook and provides the industry specification, kind, and grade of oil that the manufacturer requires for the engine," he noted.
"We are strategically collaborating with top companies who put the needs of their customers first and deliver high-quality items to our consumers as we strive to offer our clients the greatest quality products and experiences. Customers will be able to access a wide choice of premium quality lubricants as a result of our cooperation with Castrol", said RUBiS Energy East Africa Group CEO and Managing Director for Rubis Energy Kenya, Mr. Jean-Christian Bergeron.
Castrol offers a diverse selection of oils and fluids for automobile, motorbike, and commercial vehicle engines, as well as industrial, marine, technology, and innovation applications. Engine oils are available for petrol, diesel and gearbox equipment.
More than 260 RUBiS Energy Kenya retail stations will sell Castrol oil lubricants, in addition to all significant lubricant distributors and wholesalers, franchise workshops, and spare parts stores around the nation.
Castrol EDGE, Castrol MAGNATEC, Castrol GTX, Castrol VECTON, Castrol CRB, and Castrol Transmax fluids are among the available options.