Kenya accelerates its PET collection and recycling agenda, thanks to Coca-Cola Africa.
Posted on : Tuesday , 30th November 2021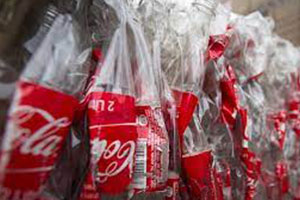 Coca-Cola Beverages Africa is a subsidiary of Coca-Cola. Kenya's sustainability mission continues to be driven by PETCO Kenya and other programmes such as trash segregation at source efforts.
Our aim of a Waste-Free World has seen encouraging trends in waste collection and recycling, which is already nearly double the 72 percent achieved in 2020.
Susan Maingi, CCBA Kenya's Public Affairs and Communications Director, said the company had achieved this outstanding recycling performance by assisting in the creation of a circular economy for plastic waste through accelerated collection efforts and buy-back centres, which added value to plastic waste and encouraged people to collect and return it.
"Creating a circular green economy enables recycling and brings communities and other stakeholders together in a collaborative effort, creating sustainable employment at the grassroots level while also helping to solve the world's plastic waste problem," Susan said.
"At CCBA, we're happy to be an industry leader in inventing more environmentally friendly ways to manufacture, distribute, and sell our products."
"Across the value chain, our goal is to create more shared opportunity for the business and the communities we serve."
CCBA has prioritised its ambitious recycling goals, as well as critical growth and profitability measures, as a major business priority. This aligns with the Coca-Cola system's vision of a Waste-Free World and pledge to help collect a bottle or can for recycling for every one it sells by 2030.
Coca-Cola has also set a goal to make all of its consumer packaging globally 100% recyclable by 2025, and to use at least 50% recycled material in its packaging by 2030.
Coca-Cola Beverages Africa in Kenya continues to promote trash separation at the source by providing collecting containers and connecting them to a recycling partner in malls, residential areas, and marketplaces.
In conjunction with the Nyayo Embakasi Residents Association (NERA), the company offered mesh bins and gunny bags for residents to separate plastic garbage while also raising awareness of the circular economy for PET in Nyayo Estate Embakasi, which has roughly 5000 families.
The company also supported seven collection centres in Kisumu, 12 in Nairobi, one in Naivasha, and one in Nyeri by providing vital equipment such as weighing scales, gunny sacks, and PPE.
Women and youths in these communities were also given job possibilities as a result of this effort.