Kenya And China Jointly Host A Regional Workshop On Petroleum Engineering In Luban
Posted on : Tuesday , 17th August 2021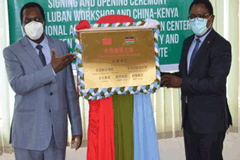 Kenya's energy sector is expected to undergo huge changes following the opening of the country's second Luban Workshop at Taita-Taveta University, which will concentrate in petroleum and petrochemical engineering.

This new venture is part of a long-term cooperative goal to establish a technical workforce to help the country better utilise the Blue Economy's potential.

Ambassador Simon Nabukwesi, Principal Secretary for University Education and Research, described the workshop's opening as a game-changer in the country's goal to become a regional oil and gas powerhouse.

Amb Nabukwesi noted that the partnership between Kenya and China to bolster the capacity of a locally trained workforce would see the country benefit immensely from practical skills in the fields of petroleum engineering, petrochemical engineering, and New Generation Information Technology during the launch of the Luban Workshop at Taita-Taveta University in Mwatate sub-county.

The event also saw the opening of a Kenya-China Vocational and Technical Education Center where a Memorandum of Understanding (MoU) was signed between Taita-Taveta University and Dongying Vocational Institute.

Both the university and the Dongying Vocational Institute have agreed to create a centre at the university and a sister centre at the Dongying Vocational Institute. The latter will be used to train Kenyan teachers as well as students pursuing further education in the Asian superpower.

PS Nabukwesi stated, "This Luban Workshop will be a centre of excellence for bridging a technical skills manpower shortfall for Kenya and other Eastern and Southern African countries."

The PS further noted that the deficit in skilled workforce in the oil and gas subsector in Eastern and Southern African Region has significantly slowed down the capacity of the country to fully exploit the sector.

He added that the launch of the Luban Workshop to provide specialized training in petrochemical and petroleum engineering would reverse this trend.

The Workshop will train oil and gas specialists from Kenya and other countries in East and Southern Africa.

PS Nabukwesi commended the varsity for pioneering in courses in vocational and technical skills in oil and gas noting that it will revolutionize the sector at the dawn of petroleum production in the country.

Oil exploration studies have confirmed Kenya's potential as an offshore gas and oil producer. Lamu Basin and areas along Kenya's oceanic boundaries have potential for large reserves of oil and gas.

Kenya's first Luban Workshop was opened at Machakos University in December 2019. The Machakos Luban Workshop specialises in training students on innovative cloud computing courses, promotion of interaction through video-conferencing and stimulation of research in the field of ICT.

Prof. Fred Barasa, Vice Chancellor of Taita-Taveta University, described it as a great honour to host the Workshop, which would function as a regional Center of Excellence in the field of petro-chemical engineering. He went on to say that the university had strategically positioned itself by addressing market gaps and reacting to such needs by focusing on new trends in engineering domains.

He revealed that numerous instructors from Taita-Taveta University have already received training at China's Dongying Vocational Institute in preparation for the program's implementation at the university. He also mentioned that in preparation for training, a thorough syllabus for teaching specialist courses in oil and gas had been prepared.

"Our team at the university has a curriculum on oil and gas that will be used to train students in petroleum engineering. Our lecturers have been trained in China and we have others who are undergoing that training," he said.

The establishment of Luban Workshops comes after the Beijing Summit of the Forum on China-Africa Cooperation (FOCAC) in 2018 where China pledged to establish 10 such workshops in Africa to provide technical and vocational skills for youth. This would promote innovation and entrepreneurship.

Other Luban Workshops have been opened in Djibouti, Ethiopia, Nigeria and Uganda.

Ambassador Sarah Serem of Kenya to China praised the relationship between the two universities as the future of educational engagement. The Ambassador, who was present virtually, adding that the two countries had been working on improving collaborative programmes to increase Kenya's potential to harness its natural resources through building local worker capacity.

"This partnership is proof that we need to engage deeply in programs that focus on skills' transfer in the technical sector to create a workforce that can respond to emergent needs," she said.

Senior Chinese officials including Yang Xiaochun, Deputy Director in Center for Sino-Foreign People-to-People Exchange; Liu Meihua, Deputy Mayor of Dongying Municipal government; Li Yancheng, the President of Dongying Vocational Institute and representative of Lenovo attended the event through video-conferencing.