Tanzania Agricultural Ministry to Partner With TOAM towards Organic Farming
Posted on : Friday , 30th July 2021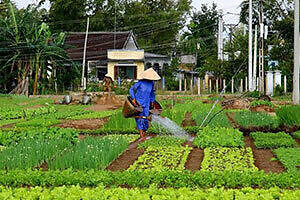 Tanzania Organic Agriculture Movement (TOAM) is planning to hold their second National Ecological Organic Agriculture Conference in October this year, in partnership with the government through the Ministry of Agriculture.
The conference, which will be held in Dodoma and will attract over 300 people from Tanzania and beyond, will, among other things, enhance public awareness about the relevance of organic farming in further endeavours to improve the livelihood of grassroots farmers.
Organic farming, which has been done by forefathers since time immemorial, not only conserves the soil and its various biological species, but also ensures farmers get fresh food harvests, according to TOAM Chairperson Dr Mwatima Juma.
"Organic farming contributes to environmental health by lowering pollutant levels. By lowering the amount of residues in the product, it minimises the risk of human and animal illness. It lowers agricultural production costs while simultaneously improving soil health.
"In most situations, it maintains and enhances fertility, soil structure and biodiversity, and minimises erosion... reduces the hazards of harmful materials exposure to humans, animals, and the environment," she noted.
Similarly, DrJuma stated that the conference's major purpose will be to promote natural and inexpensive agriculture to farmers without the use of chemicals in the form of fertilisers and pesticides, which end up contaminating the land.
She went on to say that organic farming is a technique designed to free farmers from being enslaved by other variables that are not only costly to afford, but also present them with chemically laced foods.
"If we focus on organic farming, the country will be free of dependency and diseases that strike us as a result of eating chemically grown products will be limited."
"Organic farming is a natural way of living that benefits not only our crops but also our cattle. We will delve into organic farming, its value to society and the country, in this discussion "The chairperson stated.
Beatus Malema, Assistant Director of Crop Promotion Agricultural Inputs and Cooperatives, said that promoting organic farming is the only method to safeguard and conserve the land without resorting to artificial fertilisers.
Source : www.africatoday.co.tz