100MW Kipeto wind farm project in Kenya completed
Posted on : Monday , 12th July 2021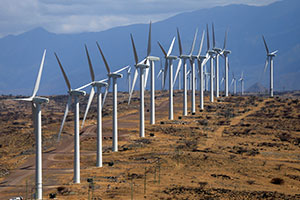 The 100MW Kipeto wind farm project in Kenya has been completed. Pan-African developer BTE Renewables and Kenyan-owned renewable developer, Craftskills announced that all of the project's 60 wind turbines are now producing power to the national grid.
Located in Kajiado County, Kipeto is Kenya's second-largest wind power project with a 20-year Power Purchase Agreement with KPLC. It is part of the former US President Barack Obama's 'Power Africa' initiative, which sought to add 30,000MW of clean energy in sub-Saharan Africa.
The wind farm project reached financial close in December of 2018, marking the beginning of its two-year construction phase. It was funded by equity from Actis-backed BioTherm Energy (88%) and Kenyan company Craftskills Ltd (12%) and a senior loan from the Development Finance Corporation (DFC), the development finance institution of the US government.
Equity interests
At the beginning of 2016, China Machinery Engineering Corporation was awarded the contract to perform engineering design, procurement and construction of the wind farm at a contract price of over US $212m.
In December 2018, Actis LLP acquired the equity interests of both the International Finance Corporation (IFC) and the African Infrastructure Investment Managers (AIIM) to become the largest shareholder of the Kipeto wind power project. Within the same period, the project reached financial closure and GE was contracted to supply the 60 wind turbines for the farm. The energy farm will provide power to approximately 250,000 households.
"Today is a proud day for Kipeto and the local community of Kajiado as we enter into commercial operation after a 12-year journey. I am very grateful for the ongoing support of the community of Kajiado, which has been paramount for our success. Now we are providing clean and sustainable energy for the people of Kenya with the support of KPLC and Ketraco," said Dr. Kenneth Namunje, Chairman and Director of Kipeto Energy Plc and also Director of Craftskills.
Source : www.constructionreviewonline.com