Mass Timber set to influence construction and design in South Africa
Posted on : Wednesday , 31st March 2021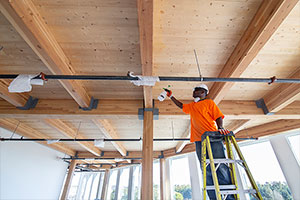 With the construction industry moving towards modular construction, the University of Pretoria (UP) Graduate School of Technology Management senior lecturer Schalk Grobbelaar stated that mass timber is one of the few building materials that ticks the boxes in terms of being cost effective, dependable, sustainable and quick construction. Mass timber has developed into a profitable building material for manufacturers and construction companies.

Conversely, Grobbelaar also comments that South Africa is lagging in the current race for mass timber because on average, South Africans use only 0.0319 m3/y of wood a person. People in North America and Europe, in the meantime, use between 10 and 20 times as much.

Grobbelaar further states, "Nonetheless, there are a team of initiators who understands the prominence of cooperation and open innovation. The latest partnership recognised between UP and York Timbers is one such example. The partnership involves the establishment of a trans disciplinary chair in data-driven wood structural engineering for a sustainable built environment and African bio economy."

Grobbelaar expounds that the chairperson will assist interdepartmental research from various schools and institutes, including the Department of Biochemistry, the Forestry and Agricultural Biotechnology Institute; Genetics and Microbiology; the School for Information Technology; the School of Engineering; the School for the Built Environment and the Graduate School of Technology Management.

The chair and research laboratory are accommodated in the recently constructed Engineering 4.0 building at UP's Hillcrest campus. The research group also takes part in the Department of Trade, Industry and Competition's Promotion of Timber Construction Steering Committee, which targets to address the elevation of the forest sector's role in the green economy.

The steering committee contracts with wood products, wood energy and forest management forestry policy and the administrative framework, together with the sustainable building, manufacture, consumption and valuation of forest ecosystem services.

Sustainability from an environmental and societal viewpoint is vital. This generates unique project, engineering and technology innovation management, along with energy systems challenges. Engineers need to have transdisciplinary skills to deliver ground-breaking solutions for engineering and societal challenges to be efficacious in this environment.

Grobbelaar concludes, "Mass timber is a "good example" of a product that can be industrialised through this approach and the UP Graduate School of Technology Management is exclusively placed to prepare engineers for this challenge".