UAE firm invests USD 2 Billion on construction in Ethiopia
Posted on : Thursday , 7th March 2019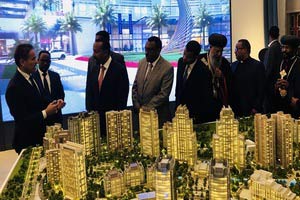 Eagle Hills a UAE based construction firm, has confirmed a project estimated at $2 billion towards an integrated community development in Addis Ababa.
The project which includes malls, 4,000 apartment houses, three star hotels and recreation centers will see the Ethiopian government hold a 27 percent share, according to Prime Minister Abiy Ahmed, who launched the project recently at an event.
Estimated to take up to seven years to be completed, the master plan envisions some 1,600 households whose current dwellings will be relocated an eventually be absorbed in the proposed apartments.
Mr Abiy said. that the UAE based company Eagle Hills has already provided USD 65 million that will allow the government to provide housing for those 1,600 households in the new project without being displaced from their current residence which is beneficial for all stakeholders.
The first phase of the 2 billion USD project which will have shopping malls, will be finalized in three years.
The project is expected to energize the economy by creating around 25,000 jobs for the Ethiopian people. The development project also aims to preserve the historical and communal values of the area, while ensuring that the current dwellers are also beneficiaries of the mega development project through ownership of some of the apartment units which stands in contrast to the previous practice of displacement.