Kenya govt. to construct 28 km connecting highway at the JKIA
Posted on : Thursday , 6th December 2018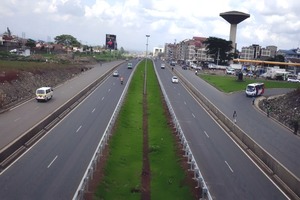 A 28 Km highway bridge is decided to be constructed by the Kenyan government, which will connect Jomo Kenyatta International Airport (JKIA) with Kangemi market on the Nairobi-Nakuru highway in order to control traffic congestion in the Kenyan capital city.
James Macharia the transport Secretary confirmed the reports saying that engineers have been deployed at the airport to assess the ground for the construction and help inform the final design of the massive overpass.
He also said that currently they have engineers who are testing the soil at JKIA. They have done the bypasses around the city of Nairobi, the Southern, Eastern and Northern bypasses and about a month ago they had signed for Western bypass. Express Highway
Express Highway
The road dubbed "Express Highway" is expected to curb the problem of passengers missing flights at JKIA due to incessant traffic congestion on Mombasa Road.
Mr. Macharia said that when one lands at JKIA, it takes another two hours to get to the city. Hence it is important to facilitate easy travel for the tourists coming to Nairobi especially for tourism conferences.
The massive US$4778m highway, will be completed in three stages starting with the 6.5 km phase one which will run from JKIA to Likoni Road and the Southern bypass interchange. The segment is estimated to cost US78m, which will be provided by the African Development Bank. Outer Ring roads and Ngong are some of those which are to be improved while Lang'ata Road would be expanded.