Regional and Continental Integration for Africa's Development
Posted on : Wednesday , 5th December 2018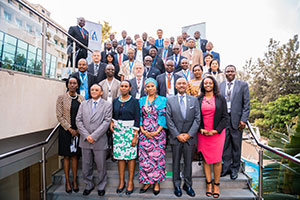 At the African Economic Conference (AEC) in Kigali where more than 700 participants including policymakers, academics, development partners and financiers from across Africa and beyond were present in order to discuss ways to accelerate progress in infrastructure integration,that is including the removal of barriers for movement of people goods and services across borders within Africa.
This African economies were called by the experts in order to accept regional and continental integration to accelerate trade and to strengthen economic growth across Africa.
UNDP Assistant Administration and Regional Director for Africa, Ahunna Eziakonwa, stated "if integration is inclusive, equitable and sustained, then this could help Africa to overcome the current challenges of inequality in development outcomes within and also between countries."
On the other side, she also added that the integration will not only lift people from poverty but it will also help people to come out or keep out of poverty.
Minister of State in Charge of Finance and Economic Planning, Claudine Uwera said that this plan of regional and continental integration will help Africa as in order to become global player which Africa already deserves to be, it should integrate speedily and it should try to become a major player in the global arena as a future plan by 2063.
Uwera also explained that this need for integration goes beyond the narrow economic view as it touches all the sectors of life.
"Bank fully supports the regional and continental integration", said Gabriel Negatu, Director General, East Africa Regional Development and Business Delivery office at the African Development Bank (AfDB). AfDB committed to continue supporting Africa's integration as it will help the African companies to grow and become global giants.
For Africa to sustain growth and bribg it back to shape the external shocks, it is necessary to have the regional and continental integration, added Negatu.
The success of continental economic integration depends on its benefits being shared equitably. Once this is put into process with full on forece, it is billed to be the biggest trading bloc in the world.