US $2bn integrated community development project to be constructed in Ethiopia
Posted on : Friday , 30th November 2018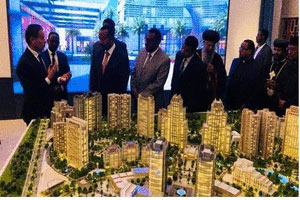 US $2bn has been set aside for integrated community development project in Ethiopia's capital, Addis Ababa which will entail 4,000 apartment houses, recreation centers and three star hotels.
During the launch of the project, the country's Prime Minister, Abiy Ahmed said that according to the master plan, 1,600 households current dwelling will be demolished and later on absorbed in the proposed apartments.
Integrated community development project
The first phase of the project will consist of shopping malls which will be finalized in approximately three years. It is expected to boost the economy by creating around 25,000 jobs for Ethiopians. This mammoth development project also aims to preserve the communal and historical values of the area, while ensuring that the current dwellers are also beneficiaries of the development through ownership of some of the apartment units thereby challenging the previous practice of displacement.
Mr Abiy said, "Eagle Hills has given us US $65m that will allow us to provide housing for those 1,600 households in the new project without being displaced from where they have been living for long"
The United Arab Emirates firm Eagle Hills, anticipating an influx of foreign businesses and tourists, said that La Gare would be anchored by four and five-star hotels, supported by offices, retail outlets and residential buildings. It will be a new commercial hub for the city offering Grade A offices and leasehold commercial property.
The development is going to cover 360,000 square meters in the city centre, in La Gare, which is the former site of the capital's central train station, from which the scheme takes its name. This project is the first foray into Ethiopia for Eagle Hills.