Kenya Among Those to Lend Support To Somalia
Posted on : Wednesday , 1st November 2017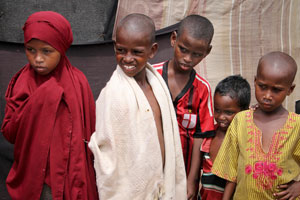 The Government of Kenya has made a donation of an assortment of medical supplies to the Federal Government of Somalia to aid and treat all those affected by the recent bombings in Mogadishu by the terror outfit Al-Shabaab.
The supplies were transported by air from Kenya to the Federal Minister of Health and Social Services, Fawziya Abikar. The mayor of Mogadishu, Thabit Abdi Mohamed was also present to receive the consignment.
The attack was widely condemned; Ambassador Tumbo also added his voice to the criticism and vowed to stand alongside Somalia during this difficult time.
"We have bought 11 tonnes of assorted medicines. I am also ready to take 26 patients with me to be admitted to Kenyatta National Hospital. And those patients who have suffered spinal injuries, we'll take them to the National Spinal Injury Hospital in Nairobi. We pray that God grants the necessary fortitude for all to endure the great loss," Ambassador Tumbo said.
He also revealed that the President of Kenya, Uhuru Kenyatta had spoken privately to his Somali counter-part Abdullahi Farmaajo and communicated his good wishes and condolences on behalf of the Kenya.
"Today, I am here on behalf of the Kenyan Government and the people of Kenya to express our heartfelt condolences to the bereaved families. Those who did that will be brought to book and held accountable on the day of judgment," Ambassador Tumbo observed.
Dr. Fawziya was also quick to praise the Kenyan Government and its leadership for their support towards the victims of the attack that killed and injured hundreds of innocent civilians.
"The President of Kenya, H.E Uhuru was one of the first leaders to send condolences to us. The Ambassador has brought us two planes carrying medicines, which are most needed following such an occurrence. Also, Kenya is airlifting the injured to Nairobi for specialized treatment. We thank them for the efforts as they are our brothers and neighbors," the Minister added.
Mayor Mohamed, for his part, said that the country's appeals for international and regional support have been answered by many allies in the wake of this barbaric attack.
Said the Mayor of Mogadishu; "Every support that comes to us is important. It is a remedy to the bereaved relatives and the injured people. Our hearts remain calm when you support us, and our efforts to restore our country will continue. We appreciate the Government and leadership of Kenya."
Source : Business News Africa