Angola to carry out five hydroelectric projects
Posted on : Saturday , 25th October 2014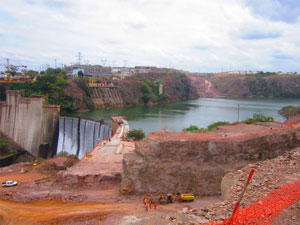 Angola will carry out five new hydroelectric projects to produce 7, 000MW of power. This is according to Angola's agency for development of the middle Kwanza (Cuanza) River, which has also said that the new hydroelectric projects will be based along Kwanza River.
Lined up for construction is five new dams, and the project will be part of the national program for development of middle Kwanza River according to Director Elias Estevao of Gabinete de Aproveitamentodo Medio Kwanza (GAMEK).
Earlier on March this year, consultants were recruited to develop an integrated water resources management plan for the hydropower-rich Cuanza (Kwanza).
Studies relating to Caculo-Cabaca, Zenzo 1, Zenzo 2, Tumulo do Cacador and Luime hydroelectric power projects have already been conducted according to Estevao.
Execution of these projects at the site will mean they will be located near 520-MW Capanda, 700-MW Cambambe 2, 2,067-MW Lauca and 260-MW Cambambe.
The Lauca hydropower project was started in 2012 and completion was expected in 2017. Construction works included setting up a 132-meter-tall, 1,100-meter-long roller-compacted-concrete dam with a reservoir of 188 square kilometers, and construction was being undertaken by Brazilian construction company Odebrecht.
The project developer of the new five hydroelectric projects is Coba and the project was about to move into a complicated second phase.
Source : www.constructionreviewonline.com