Pumwani Maternity receives Sh43m medical equipment
Posted on : Friday , 11th August 2017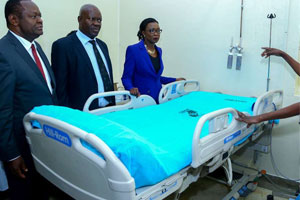 The Pumwani Maternity Hospital on Friday received Sh43 million medical and bio-metrical equipment.
The donation from Coca Cola Africa is aimed at reducing maternal deaths.
While handing over the donation, Nairobi Governor Kidero's wife, Susan Mboya, who doubles as the president of the Coca-Cola Africa Foundation said the project has been a great success.
She said the donation had been made possible through the partnership with Medshare International.
Medical Superintendent Dr Lazarus Omondi said provision of ultra sounds services and the theatre recovery bed will facilitate good services.
He said Medshare sent a shipment donation to the hospital, which contained more than 21,400 pounds (9, 706 kg) of medical supplies. Omondi said the hospital will get 42 pieces of biomedical equipment needed to help deliver babies, treat pregnant women and strengthen the local health system.
"An ultrasound unit, an operating table, an incubator, a birthing bed, a maternal examination table and two infant warmers are among the critical items included in this donation," he said.
Source : http://www.the-star.co.ke