Tanzania: Dar Among Top Global Fund Beneficiaries
Posted on : Saturday , 15th July 2017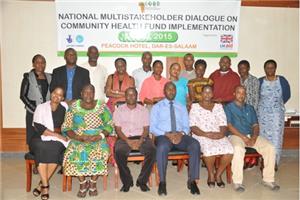 TANZANIA is among five leading beneficiaries of the Global Fund to fight AIDS, Tuberculosis and Malaria, having pocketed 1.9 billion US dollars (about 4tri/-) between 2003 and March, 2017.
Former President Benjamin Mkapa revealed in Geita region's Chato District during the handover ceremony for health servants' 50 houses yesterday. Geita, Simiyu and Kagera regions received 20, 20 and 10 housing units, respectively.
Benjamin Mkapa Foundation (BMF) executed the project through funding from the Global Fund. Mr Mkapa described the execution of the housing project as a perfect example of the public-private partnership, urging medics to work hard in serving the people notwithstanding their limited number.
Earlier, BMF Executive Director Dr Ellen Mkondya-Senkoro said the foundation had so far constructed 480 houses in 17 regions, providing shelter to health workers in 268 health facilities, thanks to the Global Fund support.
"As we speak now, the 450 houses have already been handed-over to 51 district councils and the remaining 30 housing units are slated for handing-over next month," Dr Mkondya-Senkoro told the public rally that attended the occasion at Mazaina grounds in Chato.
She added, "The projects were implemented at 26.5bn/-. The 50 housing units that we are handing-over today (yesterday) were built at 2.5bn/- and they will provide shelter for workers at 25 health facilities in the three regions."
Dr Mkondya explained further that since the 2010/2011 fiscal year, the foundation has facilitated recruitment of 1,100 health practitioners at public health facilities countrywide as well as providing scholarships to 949 medical students; 826 of them ready for employment in public service.
"We have as well supported government's efforts in improving health care through construction of operating theaters in health centres and dispensaries and conducted capacity building training to staff in the medical field," she explained.
A Global Fund representative, Ms Martha Setembo, disclosed that the organisation had allocated 580 million US dollars (about 1.3tri/-) for Tanzania Mainland and 11 million dollars (over 24bn/-), to support improvement of public health services between 2018 and 2020.
She hailed BMF and the government of Tanzania for appropriate execution of the projects which have eventually won them trust and additional financial support from the global institution. The Minister for Health, Community Development, Gender, Elderly and Children, Ms Ummy Mwalimu, revealed that the government was set to table in the National Assembly a bill to enact legisla tion on universal health insurance for all Tanzanians.
Ms Mwalimu hailed former President Mkapa for championing upgrading of primary health care when he was in power in the Third Phase Government. "The number of health facilities has since then grown from 4,000 to 7,200; the government has managed to reduce by 50 per cent the infant mortality rate but the challenge remains on maternal mortality rate, with 556 women dying in every 100,000 live births," she stated.
The minister noted on the other hand that budget allocation for the health sector has been growing steadily, increasing from 9.2 per cent in 2016/2017 to 10.1 per cent of the whole budget in the current financial year. Dr Magufuli on the other hand pledged to directly write to the management of Global Fund to thank them on behalf of the people of Tanzania for the support it has been granting to improve health services.
Source : http://allafrica.com