Kenya: Chinese Doctor Offers Free Medical Aid to Nairobi Slum Dwellers
Posted on : Monday , 9th January 2017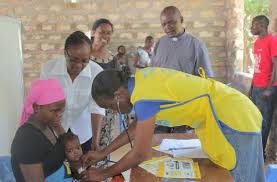 Nairobi — Wang Lei, a Chinese doctor, is offering free medical aid to slum dwellers in the Kenyan capital Nairobi.
Prof. Wang told Xinhua earlier this week that he came to Kenya under a bilateral agreement between the Kenyan and Chinese governments on medical cooperation.
Under the agreement, the Chinese government will donate four mobile health clinics to Kenya. The clinics are expected to extend medical services to Kenya's remote or under-served areas that lack health services.
One of the clinics will be set up in Kibera, a large slum in Nairobi, while another two will be placed in Mombasa and Turkana respectively. The location to put the fourth clinic will soon be identified.
Wang is currently providing treatment to people living in Kibera by organizing free medical camps.
Kibera was selected to benefit from the medical outreach programme due to the presence of a huge population of people living in poverty.
"We are therefore offering free diagnostics services as well as providing free treatment and medication," he said. The most common ailments treated include malaria and pneumonia.
Wang, who is an orthopedic surgeon, is also providing free treatment of bone fractures and wounds.
"We have been overwhelmed by the positive response of patients who visit us to receive treatment," he said.
However, once the China-donated clinic is set in Kibera, the residents will have a better-equipped place where they can access free medical services.
Wang told Xinhua the health facilities would help those who cannot afford to pay for basic health facilities, with at least one doctor manned there to diagnose and treat simple ailments.
"In this way even the poor people will directly benefit from Chinese overseas aid to Kenya," Wang said.
Wang comes from a family of doctors as both his father and grandfather as well as his older brother are doctors in China.
He said that he was inspired to join the medical profession at a tender age by watching his grandfather treat patients.
"I saw my grandfather turn the sorrow of patients into joy and this drew me to study hard and become a doctor," he said.
Wang enrolled for a bachelor's degree in medicine in the year 2000 and by the end of 2010 he had attained a doctorate in the same field. "I managed to complete studies in a shorter time than normal," he said.
Wang is now a professor at the Shenzhen Institute of Advanced Technology, which is subordinate to the Chinese Academy of Sciences, and is also an associate chief physician at Shenzhen University's Louhu Hospital.
He said he dreamed of going to Africa after watching a movie while he was very young.
"I remember watching the film Out of Africa and I immediately fell in love with the continent," he said.
Wang realized his dream as he engaged in the Chinese overseas aid program. He will work in Kenya until October.
"I hope I will have inspired a generation of Chinese doctors to provide high quality health service for the people of Africa," he said.