Tanzania sets aside US$17m for construction of ring road
Posted on : Friday , 15th August 2014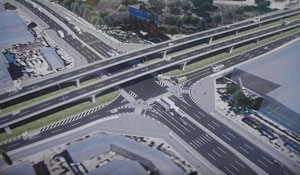 The Ministry of Works in Tanzania has set aside US$17m for construction of ring roads in Dar es Salaam Tanzania.
The funds are aimed at constructing tarmac ring roads in the city to ease traffic being experienced. The government has already set aside US$1.2m for the installation of road lights from Mwenge to Tegeta along Ali Hassan Mwinyi Road.
This was revealed by the Minister of Works Dr. John Magufuli during a tour of the roads under construction in Dar es Salaam on Monday. The minister urged those who have put up houses along the Tegeta-Mbezi section of Bagamoyo road to start vacating the area to pave way for the construction of the road. Parts of this road are already under construction.
An interchange will be built on Morogoro road where a rapid road transit system is under construction.
It was also revealed that tenders for construction of the Tazara flyover will be opened in September in Japan. The flyover will be built at the busy Tanzania-Zambia Railway Authority (TAZARA) junction between Nyerere and Mandela roads in Dar es Salaam. Construction works are expected to commence in October this year.
The Ministry of Works in Tanzania US$17m for construction of ring roads, construction of ring roads in Dar es Salaam Tanzania
Source : www.constructionreviewonline.com