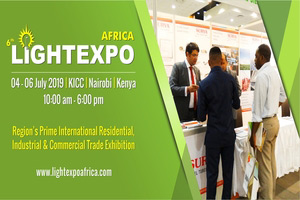 Posted on :Tuesday , 25th June 2019
04 - 06 July 2019 | Kenyatta International Convention Centre | Nairobi | Kenya
Dated: 10th June, 2019
After consecutive successes the 6th LIGHTEXPO AFRICA is back from the 04th – 06th July 2019 at KICC, Nairobi in Kenya. Held concurrently with the 22nd Buildexpo 2019, the event shares the stage, opening up to greater number of visitors from a wide industry base. Africa's largest International Trade Exhibition brings together domestic and international companies in the market to the buyers from across the East Africa who are seeking to expand in the lighting industry and to keep abreast of industry trends and developments.
Countries dominant this year are UAE, China, India and South Africa with several leading international brands looking to build a solid foundation in the East African market. Novablue Industries (Uae), Lby Africa (South Africa), Sensinova (India), Silentflow Taa (Kenya), Shenzhen Huatuo Power, Sallan Lighting L.L.C, Sanmenxia Woojong Intelligent Photoelectricity Co., Ltd and Yantai Spiral Lighting Co., Ltd (China) are some of the market leaders in their respective industries.
Lightexpo includes lighting equipment and accessories of different capacities, Lighting Automation, Waterfront & Marine Lighting, Lighting Controls & Solutions, LEDs/OLEDs, Interior Illumination, Intelligent Controls, Lighting Electronics, Outdoor Lighting, Dynamic Lighting, Architectural Lighting, Fluorescent & CFL, Street Lights and more. The exhibition represents the latest achievements and developments of lighting industry branches, innovative methods and advancements in lighting products and technology. Visitors will find the latest and most innovative products and equipment in the industry at the highest rate of efficiency.
The 6th edition of Lightexpo will allow exhibitors to connect with the Eastern African market. This event will attract residential and commercial lighting industry distributers, OEM manufacturers and entrepreneurs, commercial equipment manufacturers, architectural lighting, residential lighting and commercial lighting manufacturers etc. This event has been planned to include the hardware and accessories needed for installation of new and innovative products.
Kenya is certainly one of the biggest markets in Africa, but the event also lays strong emphasis on attracting traders and importers from neighboring countries. According to the World Bank, infrastructure is the key to Africa's economic turnaround and will play an even greater role in the continent's continued development. Kenya, in particular, is making giant strides in infrastructure and urbanization, with demarcated economic zones, commercial and residential buildings, and resorts for tourists. And as Kenya's population and economy grows, the demand for innovative, efficient and effective lighting solutions is also accelerating.
Visit: http://lightexpo.expogr.com/ for more information or contact:
Trevor Daniel
Media Manager
Lightexpo ( East Africa )
Email: feedback@expogr.com
Int'l: +971 43050755 | Kenya: +254 792268513