Posted on :Tuesday , 21st February 2017
The UN Food and Agriculture Organization (FAO) has launched a new initiative to support and empower rural women across the country.
The organisation last week launched the second phase of Rural Women Economic Empowerment (RWEE) project to help accelerate economic empowerment for women.
The $400,000 (about Rwf330m) project is a programm. . .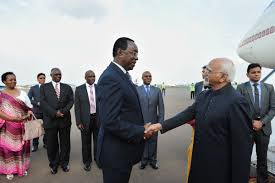 Posted on :Monday , 20th February 2017
In order to enhance the bilateral ties with Indian diaspora settled in Rwanda, India is all set to open its resident mission in the country's capital.
"India and Rwanda are great friends, and Rwanda has a good population of Indian community here and, we have had a valid complaint of not having a resident mission in Kigali. So, the government has already t. . .