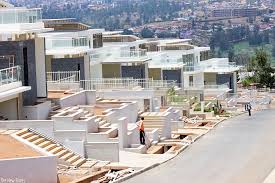 Posted on :Sunday , 14th May 2017
Located on one of the hills at "The Land of a Thousand hills," the Vision City project is part of the Rwandan government's efforts to solve housing challenges in the capital city Kigali.
The first phase of the project, the biggest housing project in Rwanda, is consisted of 504 units of villas and apartments. According to the plan, after all the four phases are completed, the project will have the capacity to accommodate over 22,000 people.
"Every time I came here to work, I see the project, I wish I can live here, I'm going to work hard," said Umubyeyi Sandrine, a Rwandan working at the site for China Civil Engineering Construction Corporation (CCECC), a Chinese company undertaking the first phase of the project.
"I hope they call it a vision city, because it's going with a vision and a plan," said the 25-year-old secretary. "It's a vision city because everyone can look at this and say 'we have a vision, even me I have a vision'."
Kigali could have a housing deficit of up to 350,000 residential units in 10 years, if nothing is done to address the current shortage, a study conducted by the Rwandan government and European Union in 2012 showed.
At least 43,436 social houses and 186,163 affordable houses are required annually by 2022, reflecting 54 percent housing demand, according to the city master plan of Kigali.
"This is the first kind in the country, the best one, with good view and good planning, everything is the first here," said Uwifashije Emmanuel, a 31-year-old electrician of CCECC.
"It is called Vision City, and this is the city of vision exactly, which has a good vision. It brings changes to the country, and helps development of Rwanda slowly by slowly. After finishing the entire project, it will be very good for our country," said Emmanuel.
Like Vision City, other projects of CCECC also have good changes to the landlocked country in terms of development, according to him.
"CCECC has built many landmark buildings in Rwanda," General Manager of CCECC in Rwanda Wang Lei told Xinhua."including a major stadium of Rwanda the Amahoro stadium, the tallest building in Kigali Kigali Tower City, the biggest business center of Kigali M. Peace Plaza and etc."
CCECC has been committing to fulfilling its social responsibility like providing free training to Rwandan workers, offering them opportunities to learn skills at the project site.
The Chinese company also helps create jobs for local people, said Wang, adding that there were 3,000 local people working in the vision city project throughout the year of 2015.
CCECC has cultivated many local workers into skilled workers under direction of the company's Chinese staff, he said.
"CCECC taught me electrical and mechanical knowledge," said Emmanuel, who has been working in CCECC since 2008.