Tanzania: Private Lab Gets Global Recognition
Posted on : Saturday , 15th July 2017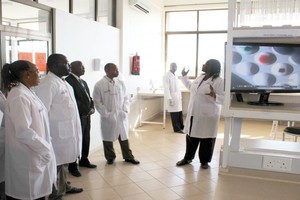 Lancet Laboratories has become Tanzania's first private medical lab to be accredited internationally.
It has been accredited by the International Organisation for Standardisation.
The award was issued by the Southern African Development Community Accreditation Services (SADCAS), according to a statement issued on Wednesday by Lancet Laboratories Tanzania Limited.
That means results from the laboratory tests meet international standards for quality, reliability and safety.
"The laboratory has been accredited by SADCAS and given a unique accreditation number MED 016 indicating that it is duly certified under ISO15189:2012 standards," noted the statement availed to The Citizen.
The accreditation follows an initial assessment held in March 2017 and approval by the SADCAS Accreditation Approvals Committee at a meeting held on June 13, 2017.
The scope of tests approved covers chemistry, serology, immunology, haematology and microbiology, which are the tests performed in the laboratory; of which over 100 individual tests are included in the accreditation schedule from basic to specialised tests.
"Attaining international accreditation is no small feat as it involves a lot of hard work, team effort and plenty of resources. This great achievement has been possible through mentorship and support from our colleagues at the Lancet Group of Laboratories in Kenya and South Africa", said Mr Nassor Ali, the country general manager for Lancet Laboratories in Tanzania.
"I'm proud of my fellow Tanzanians in the Lancet team who have had a steep learning curve and worked tirelessly to get us where we are today."
Mr Mohamed Jaldesa who is regional technical manager for Lancet Group of Laboratories in Tanzania explained that the accreditation process started the day one the lab was set up.
A ceremony to celebrate the accreditation is being planned by the Lancet Tanzania team, which will be graced by the consultant pathologist group managing director for East Africa, Dr Ahmed Kalebi.
At the moment, Lancet's referral lab branch in Regency Hospital is undergoing final stages of internal audit and scheduled for external audit by SADCAS later in the year, after which other laboratories including in Arusha, Moshi, Dodoma and Zanzibar will follow suit.
Source : http://allafrica.com