Meet leading experts in the Dental sector at the 2nd DentExpo Tanzania 2017
Posted on : Tuesday , 13th June 2017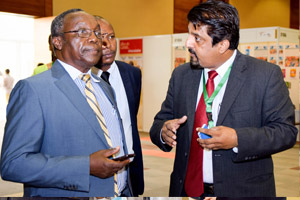 Hundreds of global and local buyers and sellers will gather in Tanzania to meet leading experts in the Dental sector at the 2nd DentExpo Tanzania 2017, which opens at at The Mlimani Conference Center this August. More than 80 exhibitors will present their latest products and production capabilities to buyers from Europe, the United States, Asia and the Middle East at Africa's Dental care Products and Equipment trade exhibition. The event, which runs from 22-24 August 2017, showcases Africa as a global sourcing destination.
The 5000 square-meter convention floor will welcome various decision makers and influencers as well as technical and professionals from leading companies involved in Dental materials & supplies within Africa and around the globe.
This year's expo, which is organized by the Expogroup, in conjunction with MedExpo , is expected to exceed the feats of MedExpo 2016, which brought together 50 international companies, 40 of which subsequently pledged to source from Africa.
With the biggest aftermarket brands on-board, spread over 15 product categories, Dentistry Equipment, Injection Control and Maintenance equipment, Dental Services to name a few.
It will also feature global stalwarts such as Chison Medical Imaging Co., Ltd, Ningbo David Medical Device Co., Ltd, Sa Health Limited to name a few.
DentExpo Tanzania brings together domestic and international players in the Dental industry with viable opportunities. Serving as forum to connect local developers with international partners and investors the conference aims to create well capitalized and experienced partnerships who can deliver high quality in a timely manner to the East African region.
Connect with the right people for your company; this is just a beginning of greater opportunities. There is no better place to be for getting market players, decision makers and investors in one room, especially in this region that has huge potential.
DentExpo Tanzania will continue to deliver growth to your business and to East Africa for years to come. It will be a combination of attendees, speakers, exhibitors and hours of networking. So you can mark your calendars, as the 2nd DentExpo 2017 Tanzania awaits.
Do not miss out on this unrivalled opportunity to network within industry peers and discuss and define the future of the East African Dental industry, be there to be part of the change.